Diane E. Kerris, O.D.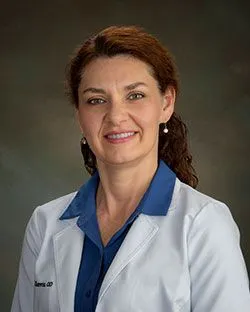 Dr. Diane E. Kerris has been practicing optometry for over two decades. She is a Salus University (formerly Pennsylvania College of Optometry) and Gannon University graduate who has focused her entire career right here in the Tampa Bay area.
Shortly after graduation, Dr. Kerris began working in a multi-disciplinary ophthalmology practice where she was able to gain experience in not only primary care, but also specialized eye care. A few years later, an opportunity to own a private practice became available and she eagerly accepted the new role. After caring for her patients for 14 years in a private setting she was led back to her career passion, working with ophthalmology.
The dedication to her career was a sacrifice at times, but one she always knew would be worth the reward. "I knew from a very early age that I wanted to be a doctor. I didn't know I couldn't see well until I got my first pair of glasses in 2nd grade. I was amazed to see that grass had individual blades. A few years later I did a science fair project on the eye and this started my interest in the field."
Although she dabbled with the thought of different specialties, her family was what solidified her decision to enter the world of optometry. "As I was finishing up college, I realized that being a hands-on mom was a priority for me. I grew up with a stay-at-home mom and having her there for so many things meant the world to me. After some research and talks with my mom and dad, I decided that optometry was a great fit for me. It encompassed my love of medicine, my intrigue with the eye and my desire to be a hands-on mom," she said.
Dr. Kerris appreciates each day that she gets to help someone see our world a bit more clearly. "Optometry allows me to help people in a variety of ways. Not only can I improve someone's vision with glasses or contact lenses, but with the advances in technology and specialty lenses I can now help patients who might not have been able to be helped before." She also partners with the patient's primary care physician in evaluating their general health and maintaining their well-being. "I am also involved with caring for the patient's overall health. So many body systems can manifest poor health or disease in the eye and I can get the patient the proper referral or care they need."
When she's not practicing, you can find Dr. Kerris spending time with her family, cooking and learning about natural health and wellness.