Reem Asfour, O.D.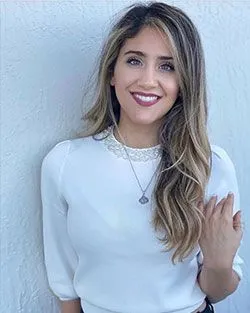 Personal Bio
Dr. Reem Asfour graduated Magna Cum Laude from the University of South Florida with a Bachelors in Biomedical Sciences and a minor in Public Health. She then continued to earn her Doctor of Optometry degree at Nova Southeastern University in Fort Lauderdale, FL. She completed her clinical training by proudly serving those at the Bay Pines VA and the Orlando VA medical center. At the VA, her training included treatment and management of many ocular diseases along with pre- & post-operative care for several ophthalmic surgeries.
During her academic career she was awarded the Pinellas County Optometric Association Scholarship, based on merit and academic performance. She was also nominated by faculty and staff to be a student ambassador, representing the College of Optometry and mentoring new students. Dr. Asfour is currently a member of the American Optometric Association and the Florida Optometric Association.
Dr. Asfour is a native, born and raised in Tampa,FL. She speaks English, Spanish and Arabic. Outside of work she loves spending her time at the beach with her friends and family. She loves serving the geriatric community and hopes to keep a smile on their face while providing optimal eye care.